Introducing the
Wyman Pianoforte...
Wyman Pianoforte Premium Grand Pianos


Designed and hand crafted for musical excellence, these beautiful new Wyman Pianoforte grands feature superior musical performance that will please even the most discriminating musician. Our talented team of designers and skilled technicians, rich in piano making experience spanning more than half a century, have come together to create the stunning new Wyman Pianoforte grand piano in a new state-of-the-art factory in Northern China. Simply put, these magnificent new instruments will out-perform traditional brands costing thousands more.
Wyman Pianoforte grand pianos are available in 4 popular sizes: 5' 3", 5' 8", 6' 3", and 7'0". All feature beautifully finished sand cast plates and TriPhonic™ spruce soundboards for optimum tone and durability. The Wyman 19-ply hard rock maple pinblock offers superior tuning stability. Wyman hard maple treble bridges are individually notched by hand, just as skilled craftsmen have done for centuries. TriPhonic™ cantilevered bass bridges used in Wyman Pianoforte grand pianos afford maximum bass performance. Wyman strings are made from premium Roslau music wire from Germany, and Wyman Pianoforte hammers are constructed from German felt, resulting in pleasing piano tone. Wyman Pianoforte grands feature the premium Yumei™ action constructed of hard rock maple and utilizing an extruded aluminum main rail for additional stability. Wyman Pianoforte grands feature premium Yumei™ spruce keys, which offer perfect key spacing and alignment for years of trouble free performance. Other cosmetic enhancements make the Wyman Pianoforte grand a beautiful addition to the decor of any tastefully decorated home.
Wyman Pianoforte Premium Vertical Pianos
Stunningly beautiful cabinetry and premium quality features are the hallmark of the new Wyman Pianoforte verticals. The 46" Wyman Pianoforte Vertical Model WV118DL is finished in Classic Polished Ebony and features a unique double leg design, silver plate finish, and polished chrome accents. The 50" Wyman Pianoforte Model WV127 features a deluxe cabinet design finished in Classic Polished Ebony with tasteful Polished Mahogany accents, a beautifully beveled upper frame, and an adjustable deluxe artist taboret bench. Quality features relating to musical performance as well as durability are consistent with features found in the Wyman Pianoforte grand models. These magnificent verticals sound as good as they look, providing many years of musical pleasure as well as being the focal point in a beautifully furnished room.
Wyman Pianoforte: The Wise Choice!
Priced slightly higher than the popular line of Wyman pianos already offered by the company, the new premium line of Wyman Pianoforte pianos offer discerning buyers a new alternative to traditional brands costing much more. The exclusive Wyman Pianoforte 12-year Transferable Warranty and Lifetime Triphonic™ Soundboard Warranty assures a lifetime of musical enjoyment. The new Wyman Pianoforte is the perfect choice for the buyer looking for superior musical performance at an affordable price.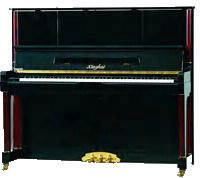 WV127
There are no shortcuts to beautiful piano tone. These are hand crafted instruments in the most literal sense, from design through to execution. One by one, these magnificent instruments come to life at the hands of skilled craftsmen with many years experience in the art of piano building.